Michael Flores
4/21/2014 10:02:00 AM
One of the things I have always liked to use as a deck design springboard is to take an existing specific deck and swap out one of its colors while retaining its curve and overall mana structure.
For example back in the first year of the Pro Tour I started out with George Baxter's "Good Stuff" ...
... and swapped in Serra Angel, Order of the White Shield, and Order of Leitbur for Sengir Vampire, Order of the Ebon Hand, and Knight of Stromgald. My deck looked something like this:
From one angle this was just a cool thing to do (all of those white cards were good cards); but at the time Necropotence, Turbo Stasis, and Prison were three of the top strategies.
So playing a ton of protection from Black Knights was awesome against Necropotence, and getting to side in up to eight Disenchant and Divine Offering was perfect against decks based on Howling Mine, Winter Orb, and Icy Manipulator.
It was a cool deck that I used to make circa one Top 8; all the cards were familiar, but the somewhat unique configuration actually came from borrowing Baxter's threat and mana structure.
So point being, I've been using this kind of technique to try new deck ideas for going on twenty years. A similar inspiration came to me recently from the current Standard. You probably already know I have been a fan of Monoblack Aggro from Make the Play Monday - Thriller and Make the Play Monday - BBB.
Some Monoblack Aggro Builds:
The traits I wanted to borrow from these decks were:
● Eight two-power one drops ● Twelve or more one mana spells overall ● Up to four offensive four drops... ● ... via 23-24 lands including a smattering of 4+ on-color Temples
The deck I wanted to apply this modeling to was a red deck.
This is that Red Deck:
I was kind of enamored of the card Fanatic of Mogis and seeing if we could fit it into a faster deck than the Hammer of Purphoros / Stormbreath Dragon builds. Fanatic of Mogis is my "Desecration Demon" in this deck, borrowing from the Monoblack Aggro curves and Temple setups. I have been hovering between 23 and 24 lands with the heavier Temple reliance, but 23 seems like a workable number, and fitting the Boros Reckoner in the main deck allows me to play all four while only spending three sideboard slots. And of course, any Boros Reckoner gives us three red pips, which go a long way in assisting Fanatic of Mogis.
If you have been following red deck trends in Standard you know that there are lots of different approaches to red decks, from low-curve Boros Burn decks to fast decks with Rubblebelt Maaka. Most interestingly to me recently is Patrick Sullivan's deck which plays Firefist Striker and Rubblebelt Maaka but no Ash Zealot.
Sullivan's assertion is that Burning-Tree Emissary is one of the four strongest cards in Standard; I think you might agree that, if it is, it is exceedingly so when in concert with Fanatic of Mogis.
The reason I wanted to try Fanatic of Mogis is that Fanatic of Mogis can provide explosive bursts of damage for a relatively low curve deck. This kind of punch can be useful for popping off planeswalkers or pushing past the sideboard artifact du jour Staff of the Death Magus. Speaking of which I think Ratchet Bomb might be worth a look as a sideboard card. It fights all kinds of dangerous three mana cards, and in particular seems devastating against Detention Sphere.
One of the things I've been pleasantly surprised about with this deck is its performance against UW and Esper decks with lots of life gain and red-hating cards. All those Temples -- even off-color Temples -- in midrange and control decks really leave the format open for a good Burning Earth. Commit hard, get in with cheap haste creatures, get the opponent to tap for a big response card, then...bam! Burn! Burning Earth.
Here is a potential turn four from a recent game:
- The opponent is Esper Control.
- He opened the first two turns with Temple of Enlightenment and Azorius Guildgate; his third turn went Island, pass.
- We opened kind of awkwardly with a Temple of Triumph. Ergo our Rakdos Cackler was on the second turn only; likewise our Ash Zealot was a turn off as all three of our first three lands were Temples.
- The opponent is on 16 with seven cards in hand. He is representing U (U/W) (U/W).
We have five cards and a hand of:
Burning-Tree Emissary Lightning Strike Chandra's Phoenix Fanatic of Mogis Mountain
It looks something like this: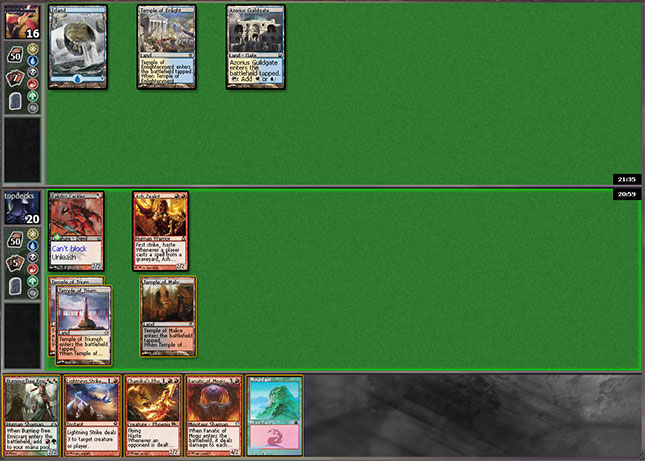 Play your fourth turn.
LOVE
MIKE