Michael Flores
4/7/2014 10:02:00 AM
Monoblack Devotion has been one of the powerhouse decks in Standard since Pro Tour Theros.
Early innovations included a couple of Pack Rats, which became all the Pack Rats; Pack Rats subsequently fell out of favor (and not just in Monoblack Devotion but in other decks where they would seemingly have made more sense). Rats are back.
Another card that has flitted in and out of vogue is Nightveil Specter; biggest, baddest threat not only in Monoblack Devotion but in Monoblue Devotion. The color-intense Nightveil Specter combined card advantage and the fundamental mechanic of the block at hand in a single spell. Though Nightveil Specter is now seemingly out.
But to some degree these kinds of threats flitting in and out of a seventy-five are interchangeable. Nightveil Specter and Lifebane Zombie [main] are kinda sorta the same. Three mana; evasion; card advantage sometimes.
...but some of the more recent innovations to the archetype have been anything but interchangeable.
Tamas Glied made a fundamental change to Monoblack Devotion: it's no longer mono-anything. With the inclusion of Ashiok, Nightmare Weaver to the main deck and sideboard, plus Notion Thief to the sideboard, this deck -- though all the cards are black -- is a black/blue deck in a way that it never really was with Nightveil Specter.
Separately, I've always thought Ashiok, Nightmare Weaver was one of the sweetest threats in Standard; it has seen play in Esper as well as multicolor green decks. But I think it is better in "Mono"black Devotion than anywhere else we've seen it thus far. It is a legitimate way for this strategy to beat control decks; especially as getting by one permission spell or Detention Sphere is fairly trivial with the help of Thoughtseize. With black's many point removal spells, its ability to borrow huge opposing threats makes for some good Magic: The Gathering when facing dedicated creature threat decks, of course.
All-around awesome and a legitimate shift for Monoblack Devotion.
Separately there is this piece:
| Store | QTY | Price | |
| --- | --- | --- | --- |
| MTG Rares | 1 | $0.02 | |
| Miniature Exchange | 12 | $0.03 | |
| adventuresON | 3 | $0.04 | |
| IDeal808 | 52 | $0.04 | |
| Miniature Exchange | 6 | $0.04 | |
| Midwest Jedi | 31 | $0.04 | |
| Renaissance Games | 3 | $0.04 | |
| Geekified Mind | 2 | $0.05 | |
| The Gamers' Niche | 4 | $0.05 | |
| OmnomaxTradersLLC | 2 | $0.05 | |
Raised as a one-card single-card strategy to beat burn decks, Staff of the Death Magus picked up a Grand Prix win more-or-less with its first time up at bat.
What about putting these two powerhouse three-drops together to make for the mightiest Monoblack?
Here is a test deck (that, incidentally, has been testing quite well for me):
(The deck is basically Glied's, with what has been called the most underrated card in Standard added to the sideboard.)
So what happens when we get exactly what we want?
It is game three, our turn five.
The opponent is Red Deck Wins and has the following in play:
3 Mountains (all tapped) Burning-Tree Emissary Burning-Tree Emissary Rakdos Cackler Rakdos Cackler
He has 17 life and one card in hand; from a previous Lifebane Zombie we know that card is a Lightning Strike.
His three-card graveyard includes:
Skullcrack (the bounty of a Burning-Tree Emissary) Firedrinker Satyr (we traded our Lifebane Zombie for this for a little value) Toil // Trouble (brained us for a ton)
We've just drawn a Watery Grave.
We have only six life but a ton of cards in play, and in hand.
We have two Swamps, two Watery Graves all untapped, along with a Staff of the Death Magus.
Our hand includes:
Swamp Staff of the Death Magus Lifebane Zombie Bile Blight Watery Grave (which we just drew)
Game Three, Turn Five looks a little something like this: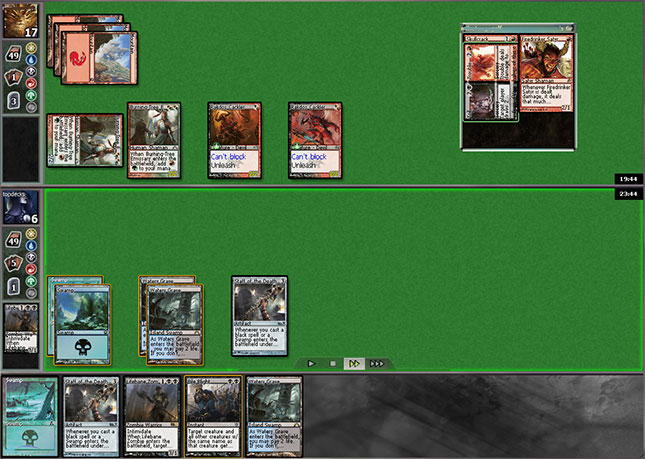 It's turn five, we haven't played a land yet, and we have a series of decisions to make.
The Challenge: Make your turn five play(s).
See ya Friday when our Celebrity Guest and I tell you what we did what we would have done.
LOVE
MIKE